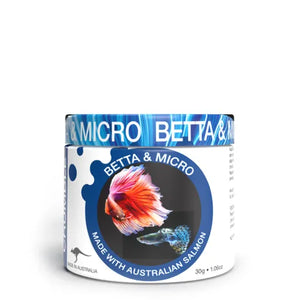 Description
Salmon is recognized as the most superior source of aquatic fish protein in fish food. Given it's high Omega 3 levels and other benefits it is the protein of choice for the worlds best brands of fish food.
Due to strict Bio-Security laws in Australia importing fish food made with over 2% Salmon is not possible. Being Australian made we can offer food made with whole Tasmanian Salmon.
Because of this and other high-quality ingredients our fish food is superior to anything on the market.
Our foods are not subject to gamma irradiation or other treatments required to be carried out on imported fish foods.
This Crumble is the perfect size and diet for all Betta and Small Fish.
INGREDIENTS
Steam Dried Whole Salmon, Fish Hydrosylate, Cassava, Organic Spinach, Pumpkin, Paprika, Garlic, Wheat Meal, Beetroot, Extracted Soya Bean Meal, Lecithin, Organic Kelp, Organic Spirulina, Fish Oil, Montmorillonite Clay, Brewers Yeast Powder, Egg, Astaxanthin, L-ascorbyl-2 polyphosphate (C), Vitamin A, Acetate, Choline Chloride, a-Tocopherol Acetate(E), Niacin, d-Calcium Pantothenate, Riboflavin, Thiamin, Biotin, Pyridoxine HCI, Folic Acid, D-Activated Animal Sterol (D3), Vitamin B12 Supplement, Vitamin K3 Supplement, Inositol, Calcium Iodate, Calcium biphosphate, Sodium Selenite, Cobalt Chloride, Ferrous Sulfate, Magnesium Sulfate, Manganese Sulfate.
GUARANTEED ANALYSIS
Crude protein min ≥ 38.0%
Crude fat min ≥ 8.0%
Crude fibre max ≤ 5.0%
Moisture max ≤ 8.0%
Avoid overfeeding as this can lead to poor water quality.
FEEDING GUIDE
Feed two to three times daily. Feed only as much as your fish can consume within several minutes.
NOT FOR HUMAN CONSUMPTION