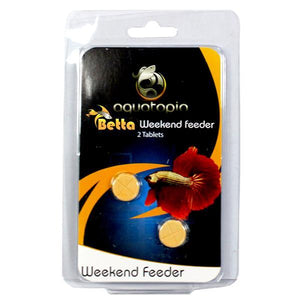 2 tablet packet of Aquatopia's Betta Weekend Feeder. These fish weekend feeder tablets are formulated to dissolve slowly and release quality fish food for your Siamese fighter while you are away for up to one week. One complete tablet will feed your Siamese fughter fish for a whole week.
Note: These tablets are only recommended as a temporary food supply. It should not be used as a permanent source of nutrition for your fish.
Ingredients
Quality Aquatopia fish food, Calcium sulphate, Magnesium sulphate, Sodium Chloride, Thiamine Hydrochloride (vitamin B1).
How to Calculate Tank Capacity
Length (cm) x Width (cm) x Depth (cm) and divide by 1000 for litres.