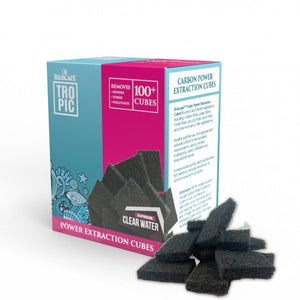 Bioscape Aquarium Carbon Power Extraction Cubes (100+ Cubes)
Bioscape carbon power extraction cubes fit almost any filtration application, including canister filters, power filters, trickle filters, wet dry filters, pond filters and other mechanical filtration options.
Durable poly fiber pads impregnated activated carbon to remove water discolouration, odours, residual medications, toxins, pollutants and dissolved fish waste reducing stress and providing better overall fish health.
Increase water quality and improve fish health by reducing the amount of common aquarium pollutants.
Control pollutant levels caused by decaying organic material, overfeeding, overcrowding and lack of water changes.
Cube Size 4cm x 3cm
Directions
Fill the media tray with enough carbon power extraction cubes to suit your filtration application or to match the size of your existing carbon cartridge pad. Change the carbon extraction cubes every 30-60 days depending on fish load. Always best to monitor your water levels by regularly testing your water.