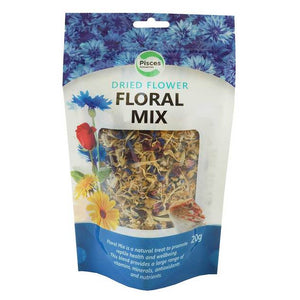 Blend of beneficial dried flowers
Rich in natural minerals, vitamins, carotenoids and antioxidants
Helps to strengthen and support the digestive and immune system
Great all natural treat for omnivores
Feeding Guide: Mix with daily feed or as a treat. Soak in warm water before serving. Provide fresh water at all times. 
Suitable for omnivorous reptiles including bearded dragons and blue tongue lizards. Also suitable for small animals including guinea pigs, rabbits and rats.
Ingredients: Dried calendula flowers, dandelion flowers, chamomile flowers, blue corn flower petals & rose petals.
Size: 20g