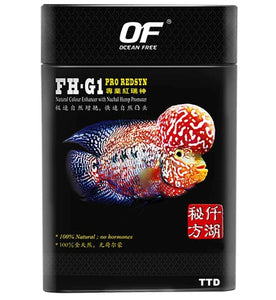 Ocean Free PRO Redsyn Flowerhorn  Pellets FH-G1 is the state-of-the-art technological breakthrough in fish nutrition for your beloved Flowerhorn by inducing greater development of head growth and improve the contour of the Nuchal hump.

Specifically with flowerhorns in mind the Pro Redsyn targets kok development and colour improvement.
OF PRO SERIES FH-G1 (Pro RedSyn)
OF Pro-Series
Premium Flowerhorn Pro-Redsyn Pellet Feed
OF FH-G1 (Pro Redsyn) is a unique, state-of-the-art scientifically formulated fish feed that encourages a speedy head growth and colour development of new generation RedSyn and other Flowerhorn or Cichlid breeds.
FEATURES
Enriched with OF Opti-FH, a thoroughly tested metabolic enhancer that increases the feed's digestibility and absorbability by at least 30%.
Bio-formulated with immune-enhancing substances that fortify your Flowerhorn's immune system for better health and extra resistance against sickness, thus reducing mortality.
Improves the fish's sparkle dots in 1-2 weeks with a unique blend of natural spirulina and a deep sea zooplankton extracts with other natural colour enhancing elements.
Promotes contour of head growth and improves the growth of finnage by channelling nutrients to the vertebrate and bones.