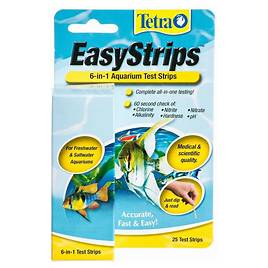 Tetra Easy Strips Test 
An all-round testing strip for checking aquarium water quality. 
Helpful in maintaining a healthy and safe environment for your fish. 
It is important to regularly test your aquariums water levels and these easystrips provide accurate results with minimal effort. 
Are a 6 in 1 strip that uses 3 pads that test for General water Hardness (GH), nitrates, nitrites, alkalinity (KH), and pH levels.