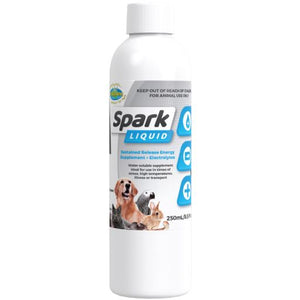 Sustained release energy supplement and Electrolytes. Suitable for all animals. Use in your pet's drinking water to rehydrate, replenish and assist in recovery during in times of extreme temperatures, stress, illness or injury.
Spark Liquid For All Animals is a fast and effective energy and electrolyte source to ensure optimum results for rehydration, replenishment and recovery in times of stress and temperature extremes.
Recommended for use in drinking water in times of extreme temperature or as a first aid supplement for sick, stressed or injured animals.
Why do we recommend Spark Liquid?
During times of heat stress (e.g. birds have their wings out, are mouth-breathing and are down on the ground, small animals are excessively panting and may be drooling or salivating ) they are undergoing changes in their body chemistry.
Their blood pH is altering, their sodium and potassium levels are out of kilter and their fluid balance is incorrect.
While we struggle to control the temperature, we must also help animals return to normal as soon as possible - this is why we use electrolytes!
When we are talking about electrolytes - it is balance that is key.
Not only do all body cells require electrolytes to function correctly, but they also require certain amounts of each type of electrolyte.
Along with the supplementation of electrolytes, Vetafarm Spark Liquid also includes vital carbohydrates that will greatly improve the recovery from stress, travelling, illness, and, of course, heat stress.