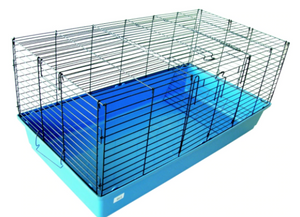 The Bono Fido Guinea Pig cage 45709 will provide your small animal with the spacious home they deserve.
This Guinea Pig Cage can be used indoors or outdoors, and provides a wide space to keep your rabbit or guinea pig comfortable. It has a plastic base, which is easy to clean and a safe and sturdy wire outside which allows for ample ventilation.
This Bono Fido  Cage also features a top opening for accessibility, and has plenty of space to add in your pet's favourite toys.
100W x 55D x 45H