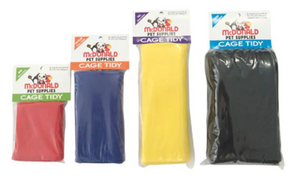 Please Note: Individual colours vary. 
MCDONALD CAGE TIDY- The original & best stretch cage tidy on the market!
Patented design reduces the amount of food and water litter.
Cage tidy is machine washable and stretches to fit all cage shapes. It fits into rim of base for a nice, neat finish and comes in a wide range of colours & sizes.
Sizes: 20x160cm, 20x220xm, 20x260cm, 20x300cm, 38x160cm, 38x220cm, 38x260cm & 38x300cm