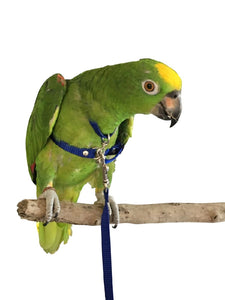 The Beak-a-Boo bird harness is a two-way fitting harness & lead combo designed to be reversible so you can fit the attachment at the front or back of your pet. They come in three different sizes so you can find the perfect size to fit your feathery friend.
Easy to fit
Reversible 
Simple Design
This particular type of harness is designed to be very easy to fit, so it's great for impatient birds!
Size
Lead: 120cm
Medium: cockatiels
Large: ringnecks, large conures
XL: alexandrians, eclectus'
Colours
*please note, colours may vary!