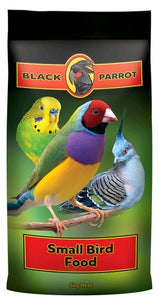 Black Parrot Small Bird Food is manufactured in crumble form to eliminate selective feeding and is suitable for most small grain eating birds such as finches, canaries, small parrots, quails, doves and native pigeons. 
Small Bird Food is a complete diet balanced for essential nutrients such as protein, energy, vitamins and minerals, and requires no other supplementary feeding other than clean fresh water. It contains a breeder vitamin and mineral premix necessary for breeding birds to ensure good fertility, hatchability and strong, robust chicks.
Fish Oil & Turmeric
Black Parrot Small Bird Food contains fish oil which is a rich source of omega 3 fatty acids EPA and DHA, and turmeric as a source of curcuminoids.
Feeding Recommendations
Feed Black Parrot Small Bird Food ad lib as the sole diet or as a supplement to grains and other suitable foods. Birds that have been raised on seed based diets may take a while to become accustomed to the different appearance and texture of crumbles. The best way to introduce crumbles is to add them to the usual diet and slowly increase the crumble portion while restricting the amount of their usual food. This may take two to four weeks or even longer for older birds.
Ingredients
Black Parrot Small Bird Food does not contain artificial colours or flavours and is formulated from a selection of the following ingredients: Wheat, triticale, barley, oats, peas, lupins, beans, lentils, canola, soya and products derived from these ingredients. Fish oil, vegetable oil, fat, turmeric, limestone, di-calcium phosphate, sodium bicarbonate, potassium carbonate, salt, lysine, methionine, threonine, tryptophan, isoleucine, valine, arginine, antioxidant and digestive enzymes.
Vitamins: A, D3, E, K, B1 (thiamine), B2 (riboflavin), B3 (niacin), B5 (pantothenate), B6 (pyridoxine), B7 (biotin), B9 (folic acid), B12 (cobalamin) and choline.
Minerals: Calcium, phosphorus, sodium, chloride, cobalt, copper, iodine, iron, manganese, molybdenum, selenium and zinc.
Analysis (as fed)
| | |
| --- | --- |
| Protein (min) | 18.0% |
| Fat (min) | 8.0% |
| Fibre (max) | 7.0% |
| Salt (max added) | 0.4% |