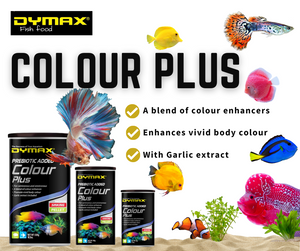 Dymax Colour Plus Small Sinking Pellet 60g  is formulated specifically to provide a complete nutritional diet.
Dymax Colour Plus formula is made of high nutritional ingredients and natural concentrated colour enhancers such as a selected mix of pure spirulina algae, astaxanthin, B-Carotene and other natural colour enhances for vibrant red, blue and yellow colours to promote excellent natural colouration of fish.
Compared to other ordinary colour fish food in the market, this formula is enhanced with natural garlic extract to increase acceptance on finicky eaters and helps promote fish health as garlic is a natural ingredient for parasite prevention.  Garlic also helps improve digestibility which reduces solid waste produced in the aquarium providing a cleaner aquatic environment.
For carnivorous and omnivorous
A blend of colour enhancers
Promote vivid body colour
Garlic extract included