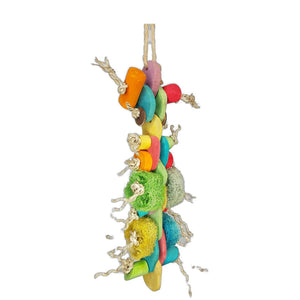 CATERPILLAR says PLAY with me and I will WIGGLE my bright COLOURS (natural vegetable dye) around as you climb on me. Use me in a VARIETY of ways – such as VERTICAL like a hanging vine or HORIZONTAL like a bridge. I'll even hold TREATS, so use me to ENCOURAGE STIMULATION via EXERCISE and FORAGING. Caterpillar is made primarily from TOUGH Java Wood, so the Java Wood and the nickel plated QUICK-LINK can be RECYCLED and REPURPOSED into another BIRD TOY.
APPROX DIMENSIONS (cm)
Large: 50 long (thats half a metre!) x 10 round
Small: 30 long x 10 round
Note product may contain small pieces. Supervised use recommended at all times.