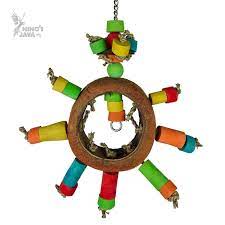 AHOY, me hearties! I'm a ship-wheeling pirate, but I've lost my PARROT? A proper pirate needs a parrot. Can you HELP me find my PARROT? Maybe your BIRD can complete me. I'm all NATURAL. I can carry your bird's TREATS to ENCOURAGE MENTAL and PHYSICAL STIMULATION via MENTAL CHALLENGE and PHYSICAL EXERCISE. I'm TOUGH too – I'm made of JAVA WOOD and COCONUT hanging on a nickel plated CHAIN and QUICK-CLIP. RECYCLE and REPURPOSE my TOUGH bits.
APPROX DIMENSIONS (cm): 45 hi (nearly half a metre) x 30 round x 7 thick.
Note may present small pieces. Supervised use recommended at all times.