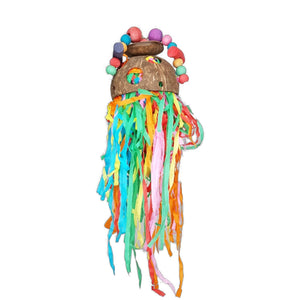 Hi, I'm JELLYFISH. You probably would not ordinarily think a Jelly fish could entertain a bird, but I can! Check out the COLOUR (natural vegetable dye) and MOVEMENT of my NATURAL pandan legs and "blobby" feet. Use me to STIMULATE the MENTAL and PHYSICAL EXERCISE your bird needs by hiding TREATS in my pandan ball feet. Check out how "Rodney the Parrotlet" hides and plays inside me! I'might be a jellyfish but parts of me like the nickel plated CHAIN, Coconut SHELL and Java Wood BEADS are TOUGH. Use your imagination to REUSE / RECYCLE my TOUGH bits once my tenatacles are gone!
Approx. dimensions: 50cm long x 10cm round.
Note product may contain or develop small pieces. Supervised use recommended at all times.