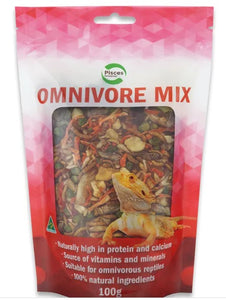 Pisces Australian Grown freeze dried insects (black soldier fly larvae, mealworms, crickets) with a mix of dried fruits and veggies including edible in-season herbs and flowers are a natural source of protein and energy for bluetongue lizards, bearded dragons and poultry.
Feed daily or as a treat.
Soak in warm water to rehydrate and soften.
Suitable for bearded dragons, poultry and blue tongue lizards
100% natural Australian dried insects, fruit and vegetables
Naturally high in protein and calcium
Great source of vitamins and minerals