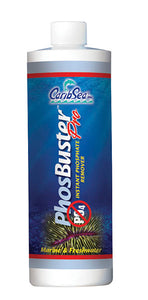 It's true, PhosBusterTM Pro is a safe and effective solution to elevated phosphate levels in an aquarium.
PhosBusterTM Pro - has a unique patent pending formula that removes dissolved phosphates in minutes instead of days. Safe for all reef tanks, saltwater, and freshwater aquariums of all sorts. Each 8 oz. bottle removes at least 1.5 ppm in up to 250 gallons of water! No more fiddling with filter bags or special reactors; just dose it and forget about your phosphate problem. PhosBusterTM Pro may be used regularly as part of a preventative maintenance program.
Directions
Add 1 capful (5ml) of PhosBuster per 5 gallons of aquarium water (1 ml per gallon). Place in the sump, near a powerhead outlet, or any high flow area of the system for rapid dispersal. Some temporary cloudiness will appear. Desired results should be achieved within 72 hours depending upon level of phosphates in the system. Keep all filters running during this time period then rinse or replace filter media. Retest water for phosphates and repeat treatment as needed. Each treatment will remove 1.5ppm of phosphate from aquarium water. PhosBusterTM may be used monthly as part of a preventative maintenance program.
IMPORTANT For Saltwater Aquariums, Carbonate Hardness Must Be 3.5 meq/l (6-7 dkh) or Higher To Use This Product. Use Buffer To Correct