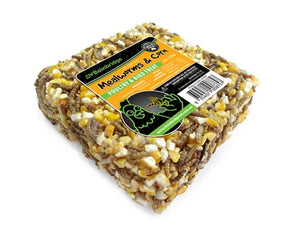 TREAT BLOCK - MEALWORMS AND CORN

Premium quality treat blocks contain dried mealworms and a mixture of high value, all natural ingredients.
Chickens love mealworms, and the extra protein means you can feel good about treating your flock.
Reduces boredom and pecking.
Contains: Corn, Dried Mealworms, Potato Starch.
Dimensions: 11xm x 11cm x 2.5cm.
Plastic wrapped to keep the block fresh.