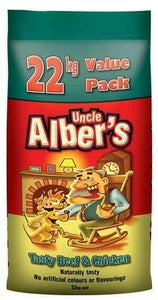 UNCLE ALBERS DOG FOOD 22KG
A Balanced & Complete Food
Uncle Alber?s is a complete and balanced diet for your dog. No other foods or supplements are required to be fed apart from clean, fresh water. The quality recipe and exacting nutritional specifications of Uncle Alber?s ensures that your dog receives essential nutrients that are required to maintain health and vitality.

You will notice that by volume Uncle Alber?s is heavier than many dry dog foods, this is because during the manufacturing process the ingredients are compressed tightly together into crunchy bite size pieces. These crunchy pieces are beneficial in keeping your dog?s teeth and gums clean and healthy.

Quality & Value for Money
Uncle Alber?s has been formulated to meet or exceed the nutritional specifications recommended by the National Research Council, Academy of Sciences, U.S.A. By weight Uncle Alber?s is higher in protein and contains considerably less water than either fresh meat or canned dog food and is balanced for other essential nutrients such as energy, fat, calcium, phosphorus, vitamins and trace minerals.

Feeding Guide
Size of Dog Amount Per Day
Toy. 5kg
e.g. Chihuahua, Pekingese, Toy Poodle 80g

Small. 10kg
e.g. Australian Terrier, Corgi,Dachshund 160g

Medium. 20kg
e.g. Kelpie, Border Collie, Boxer 260g

Large. 30kg
e.g. Labrador, Greyhound,German Shepherd 300g

Giant Breeds. 50kg
e.g. Great Dane, Newfoundland, St. Bernard 500g

1 metric cup = approximately 170g
Introduce Uncle Alber?s gradually and increase the amount fed over a number of days.

These feeding recommendations are a guide only and will vary depending on activity level, breed and weather conditions.
As a general guide small dogs will consume approximately 1.5% of bodyweight and large dogsaround 1% of bodyweight.
Very active dogs may require up to twice the normal amount and lactating bitches two to three times the normal amount. Adjust the amount fed based upon the body condition of your dog.
If your dog is not familiar with dry dog food it may take a few days to get uséd to the different crunchy texture.
Ingredients
Uncle Alber's is formulated from a selection of the following ingredients: Cooked meat or meat by-products derived from beef, lamb, poultry or pork, cooked fish or fish by-products, animal fat, vegetable oil. Cooked cereals and products derived from wheat, canola and soybeans. Lysine, methionine, threonine, tryptophan, natural flavours, bentonite, salt, enzymes and antioxidants.
Vitamins: A, D3, E, K, B1 (thiamine), B2 (riboflavin), B5 (pantothenate), B6 (pyridoxine), B12, niacin, folic acid, biotin and choline chloride.
Minerals: Calcium, phosphorus, sodium, chloride, cobalt, copper, iodine, iron, manganese, organic selenium and zinc.
Analysis (as fed)
Protein (min) 28.0%
Fat (min) 14.0%
Vitamin A 8,000 iu/kg
Vitamin D3 800 iu/kg
Vitamin E 100 mg/kg
Riboflavin 5 mg/kg
Thiamine 2 mg/kg
Biotin 200 ?g/kg