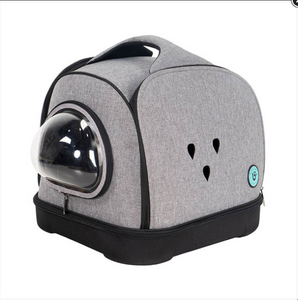 Bono Fido Space Capsule Soft Carrier
Product Description
The Bono Fido Space Capsule Soft Carrier is a convenient cat carrier that can alternately be used as a cat bed or playhouse. It features a space bubble window to increase your pet's visual angle, but can be interchanged with breathable netting, depending on your preference or travelling needs. Space Capsule Soft Carrier includes a soft floor mat that is removable for easy cleaning. The padded handle makes transporting your pet effortless. This carrier is also great for storage, and can be folded down in seconds. 
Multiple purposes

Interchangeable bubble capsule and breathable netting window

Removable floor pad

Folded flat in seconds
Size: 45cm x 39cm x 40cm.
Colour: Grey.