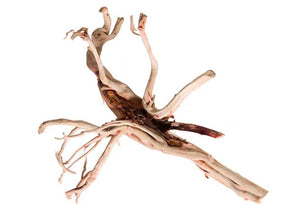 RED MOORE M 40CM
Red Moore is a close relative of Gold Vine, composed of exciting and curly branches, but with strips of reddish hues.
You can't find two pieces that look the same. The reddish strips slowly turn into a darker reddish-brownish shade when placed underwater which offset the white branches with spectacular contrast.
Arguably this is the most spectacular wood hardscape in aquariums. It makes quite an impression with its branchy appearance and two-tone stripes. Very light in tannins.
The wood may take some time to sink but can be held or easily wedged down until it becomes waterlogged.
Soak for a few hours before use.